The Coach Dashboard displays a summary view of each team's completed and done late tasks and goals, journals written, and trackers recorded.
User roles that can see this Dashboard are Managers/Coaches/Teachers, Super Managers/ Super Coaches/ Super Teachers, and System Administrators.
Click 'Dashboard' on the left-hand side of the main page.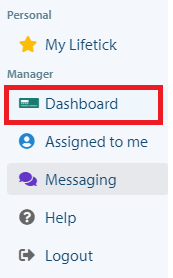 Filters are for selecting the team and the period you would like the dashboard to display.
If the user role is a Super Manager or a System Administrator, the user can view the coach dashboards of other managers (or coaches, teachers etc depending on the terminology you have set up in Lifetick).
The period can be set to the last 7 days to last year or this week to this year.

Right under the filters, you'd see the total number of Goals created and completed, Tasks added and completed, Journals written, Trackers recorded and Dreams created.

Rankings are also on display. Clients/Employees/Students are ranked according to the number of Goals and Tasks created, completed on time and late, Journals written and Trackers recorded.
In this section, you get to see the clients who might be in need of help by checking on Goals/Tasks completed late.

The manager can then visit clients' individual goal list view by clicking on their names.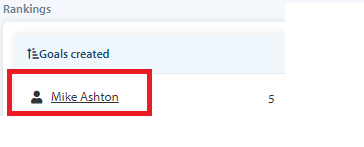 As a manager, you can start creating goals for your clients.