Lifetick allows organisations to configure different names for coaches and clients. This means for businesses you can use names like managers (for coaches) and employees (for clients) for schools you can use teachers and students and for families you can use parents and children. There are several other options available for each of these entities.

When you first create your account you choose whether your "organisation" is a business, school or family. Once this is selected you will be restricted to options in your account only relevant to that selection.
Note: Only users with a System administrator role can configure terminology.

Click on 'Terminology 'under System admin.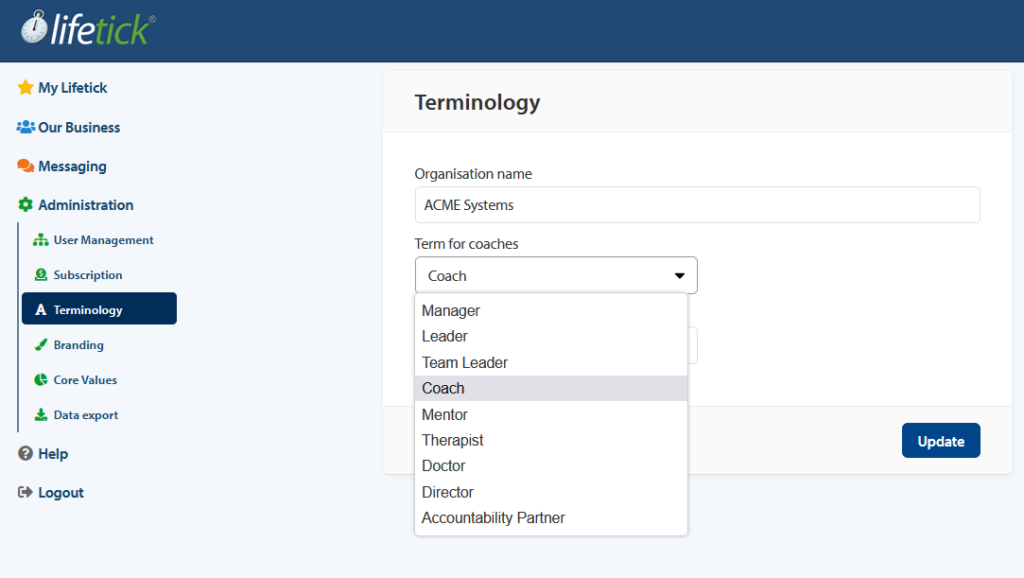 Select the term for coaches from the dropdown list.
Select the name for clients form the drop down list.
When you are satisfied with your new naming convention for coaches and clients, click 'Update'. Your new terms will be reflected throughout Lifetick including: menus, buttons, descriptions and emails. This can be changed at any time.
If there is a term you would like to use for your people that is not currently available, please contact us at [email protected].